Bradley Sutter
Safety Consultant
CSP, CHST, OHST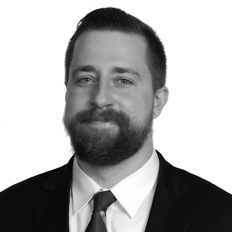 Contact
Chicago
5600 Apollo Drive Suite 1000
Rolling Meadows, Illinois 60008
Email
Phone
Biography
Mr. Sutter earned his Bachelor of Science degree in Safety from Illinois State University, where he developed broad skill sets in safety. At S-E-A, he is responsible for the investigation and management of projects involving safety issues in commercial/industrial and residential construction environments. Mr. Sutter can identify and solve applied sciences problems using fundamental aspects of safety, industrial hygiene, environmental science, fires science, hazardous material, emergency management, ergonomics, and/or human factors. He also evaluates projects involving incidents regarding the anticipation, recognition, evaluation, and control of factors that may have caused or contributed to the incident.
Prior to joining S-E-A, Mr. Sutter worked as a Project Safety Manager for one of the largest North American construction building/management companies in the building, civil, and transportation sectors. He developed and managed safety programs for large metropolitan water reclamation district treatment plants, their deep tunnel projects, runways/taxiways at an international airport, multiple rail projects with a metropolitan transit authority, as well as the railroad. Mr. Sutter assisted project management in the coordination of the safety and health of subcontractor, vendor and owner personnel working on company projects. He coordinated project safety programs with subcontractors on multi-employer jobsites. Assisted in planning and coordinating work to minimize risks, and aggressively manage losses involving injuries or property damage. He coordinated quarterly comprehensive on-site safety audits of multi-employer worksites. Periodically inspected and evaluated the project site, equipment and processes for compliance with applicable local, state and federal regulations, as well as company and owner policies and procedures.
Previously, Mr. Sutter worked for an industry leading chemical mechanical planarization plant as a safety professional assisting plant safety managers. There he implemented site-specific safety and health plans, coordinated on-site safety audits, performed incident investigations, conducted ergonomic assessments and noise monitoring, advised management teams, and provided various training to all job site employees in a general industry setting. Mr. Sutter also worked as a test technician for an environmental consulting company where he performed environmental testing at plants and factories across the United States.
Mr. Sutter is a Board-Certified Safety Professional (CSP), Construction Health & Safety Technician (CHST), Occupational Hygiene and Safety Technician (OHST), and a Certified Scaffolding Trainer/Inspector, who has extensive knowledge in all facets of safety with a focus on construction safety and health.
Request CV
"*" indicates required fields