C. Brian Tanner
Sr. Mechanical Engineer/Biomechanics
P.E.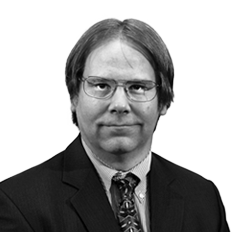 Contact
Columbus
7001 Buffalo Parkway
Columbus, Ohio 43229
Email
Phone
Biography
Having earned a Bachelor of Science degree in Mechanical Engineering from the University of Notre Dame, and his Master of Science degree in Engineering Mechanics from The Ohio State University, Mr. Tanner has a dynamic academic background.
During graduate school, Mr. Tanner gained both education and experience in biomechanical engineering as a research assistant in an orthopedic biomaterials laboratory.
This experience was further bolstered in the four years following graduate school spent as a research engineer at the Transportation Research Center managing and conducting automotive safety projects and developing test equipment and procedures.
In 1994 S-E-A was able to capitalize on Mr. Tanner's education, experience and training when he began to work as a project engineer with an emphasis on automotive accident reconstruction and investigation, motor vehicle dynamics, occupant biomechanics, human kinematics and injury causation, and automotive restraints and mechanical systems analysis.
Mr. Tanner has been called upon many times in the past 15 years to provide expert testimony in these areas in criminal and civil courts, and state and federal jurisdictions.
While at S-E-A, Mr. Tanner's vast test experience and knowledge are often utilized for the setup and conducting of various test procedures and programs, and for overseeing full-scale vehicle-to-vehicle and vehicle-to-barrier impact tests.
His background in testing and research has also afforded Mr. Tanner the opportunity to author, and often present, over 25 peer reviewed publications. A registered professional engineer in six states, he is also a certified specialist in the retrieval of crash data from onboard vehicle data recording devices.
He is a member of the American Society of Mechanical Engineers (ASME), the National Honorary Mechanical Engineering Fraternity, and has been recognized for his more than fifteen years of service to the Society of Automotive Engineers (SAE).
Request CV
"*" indicates required fields