Cameron Trepeck
Mechanical Engineer/Biomechanics
Ph.D., P.E.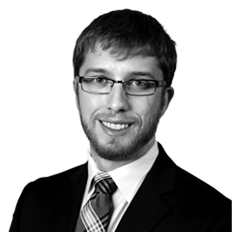 Contact
Ft. Lauderdale
5410 NW 33rd Avenue Suite 100
Ft. Lauderdale, Florida 33309
Email
Phone
Biography
Dr. Trepeck earned his Bachelor of Science, Master of Science, and Doctor of Philosophy in Mechanical Engineering with research focusing in Biomechanics from Florida Atlantic University. His doctoral thesis involved designing and building a hybrid robotic system for simulation of non-contact Anterior Cruciate Ligament (ACL) injury in dynamic athletic activities. Along with his own dissertation work, Dr. Trepeck has also worked with the Florida Atlantic University Department of Exercise Science on powerlifting training devices and testing methodology.  Dr. Trepeck brought his background in biomechanics, machine design and development, finite element analysis, material testing, control systems, ACL injury mechanics and cadaveric testing to S-E-A in early 2018. Since coming to S-E-A, Dr. Trepeck has applied his education and experience to completing forensic engineering investigations and analyses of vehicular accidents, product failures, premises incidents, and injury causation. He has continued to add to his education and training through successful completion of Traffic Accident Reconstruction I at Northwestern University, the Institute of Police Technology and Management (IPTM) CDR Technician course, IPTM's Occupant Kinematics for the Traffic Crash Reconstructionist, and is an FAA licensed sUAS remote pilot. Dr. Trepeck is an active member of the American Society of Mechanical Engineers (ASME), Biomedical Engineering Society (BMES), and the American College of Sports Medicine (ACSM).
Request CV
"*" indicates required fields