Tara T. Amenson
Sr. Biomedical/Safety Consultant
Ph.D., M.P.H., ASP, CSP, CPSI, CXLT, WACH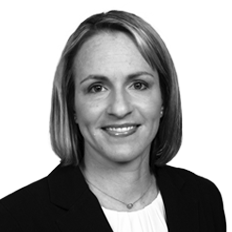 Contact
Columbus
7001 Buffalo Parkway
Columbus, Ohio 43229
Email
Phone
Biography
Dr. Amenson's diversified background in impact biomechanics, safety, human factors, public health, and biomedical engineering qualify her to consult, investigate, and analyze various incidents. As a Certified Safety Professional (CSP), Dr. Amenson provides consultation on matters including premise liability, human factors, product safety, warnings, and instructions. Her expertise in sports, recreation, pool and aquatic facilities, children's products, and impact attenuating surfaces allows her to perform biomechanical injury analyses and incident investigations. Dr. Amenson utilizes her expertise to investigate and consult on many of the following topics:
•   Slip, trip, misstep, and fall evaluations
•   Slip resistance/ available friction/ required coefficient of friction, tribometers, pedestrian walkway safety, human gait, footwear, and floor maintenance policies and procedures
•   Biomechanics/ ergonomics and injury risk
•   Impact attenuating surfaces including playground surfacing, inflatables, synthetic turf, and mats
•   Human perception/ response, vision, and situational awareness
•   Human error and decision making
•   Consensus standards and regulatory analysis
•   Warnings and instructions adequacy, signage, and product safety
•   Playground equipment safety
•   Sports and Recreation injuries
•   Pool and Aquatic facility safety
•   Trampoline parks
•   Family fun and entertainment centers, and
•   Obstacle courses.
She is a Certified Playground Safety Inspector (CPSI), a TRIAX surface impact tester certificate holder, a National Floor Safety Institute (NFSI) Walkway Auditor certificate holder, and a certified English XL tribometrist.
Request CV
"*" indicates required fields