Brian M. Boggess
Discipline Lead, Mechanical Engineering/Vehicle Accident Reconstruction
Sr. Mechanical Engineer/Biomechanics
M.S., P.E.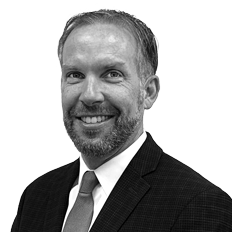 Contact
Charlotte
3139 Westinghouse Blvd.
Charlotte, North Carolina 28273
Email
Phone
Biography
Mr. Boggess obtained his Master of Science degree in Mechanical and Aerospace Engineering, specializing in Automobile Safety and Impact Biomechanics, from the University of Virginia. He additionally holds a Bachelor of Science degree in Mechanical Engineering from the University of Virginia.
Mr. Boggess began his engineering study in the areas of mechanics and thermodynamics research and testing methods as an undergraduate through internships with National Aeronautics and Space Administration (NASA) and the National Science Foundation (NSF).  While completing his graduate studies, Mr. Boggess also conducted injury risk, injury threshold, and injury mitigating systems testing at the University's Automotive Safety Laboratory/Center for Applied Biomechanics. Clients of the laboratory included the Department of Transportation (DOT), vehicle OEMs, the US Army, and the United Nations. This automotive and biomechanical education and experience led him to Honda R&D Americas, Inc., where he spent over six years designing, developing, and testing occupant and pedestrian safety systems.
Since coming to S-E-A, Mr. Boggess has applied his wealth of mechanical, automotive, and biomechanical engineering education, experience, and training to providing forensic engineering analysis of vehicular and construction equipment accidents, and mechanical system designs, including product failures, biomechanical analyses, and injury causation analysis.  He has also continued to add to his education and training completing courses through numerous education and professional organizations, such as the Northwestern University and the Society of Automotive Engineers (SAE).  Mr. Boggess is actively involved in the engineering community through leadership roles on American National Standards Institute (ANSI) committees, and continued work through the SAE, American Society of Mechanical Engineers (ASME), and other professional organizations.  An inventor or coinventor of seven separate patents, Mr. Boggess is also a licensed professional engineer in over 25 states and has at least 30 peer-reviewed technical papers that he has been a coauthor of over the past 20 years.
Request CV
"*" indicates required fields