Dusty Boyd
Mechanical Engineer
P.E.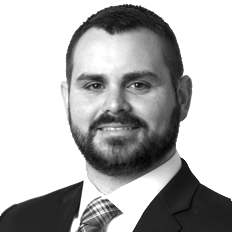 Contact
Charlotte
3139 Westinghouse Blvd.
Charlotte, North Carolina 28273
Email
Phone
Biography
Mr. Boyd earned his Bachelor of Science degree, in Mechanical Engineering from The University of North Carolina at Charlotte. Mr. Boyd gained experience in mechanical engineering at Joe Gibbs Racing (JGR) where he was a Vehicle Development Engineer for their NASCAR CUP series teams. In this role, Mr. Boyd designed and implemented components to enhance vehicle performance and manufacturability. This process would involve component development from concept through implementation and competition. Mr. Boyd was often focused on aerodynamic development, with priorities on quality and manufacturing process control through CAD software model development, fixturing, mobile CMM metrology, and scanning techniques. Mr. Boyd often incorporated, developed, and performed component testing with both fatigue/ultimate load-based lab testing techniques and on vehicle instrumented scenarios. Previously at JGR, Dusty was a Suspension Engineer & Damper Specialist where he was tasked with improving performance and handling characteristics of the competition vehicles through damper and ride spring development. This development was carried out in competition, track testing, dynamic rig testing, and simulation-based environments. While most of his time was devoted to NASCAR Cup competition, Mr. Boyd was part of the development and competition teams in multiple NASCAR series. During college, Mr. Boyd gained engineering experience through manufacturing support and competition vehicle instrumentation responsibilities for Bill Davis Racing in multiple NASCAR series.
Since joining S-E-A, Mr. Boyd has applied his automotive and mechanical systems experience towards forensic investigations of automotive and commercial vehicle accidents, mechanical systems failures, and product design. Mr. Boyd has continued his education and training through successful completion of Northwestern University Traffic Accident Reconstruction 1, and FARO Focus laser scanner certification, and has attended national seminars and training in vehicular Event Data Recorder application and advancement. Mr. Boyd is a member of the Society of Automotive Engineers (SAE) and the American Society of Mechanical Engineers (ASME).
Request CV
"*" indicates required fields