Jonathan Nelson
Mechanical Engineer/Marine Consultant
P.E., CMI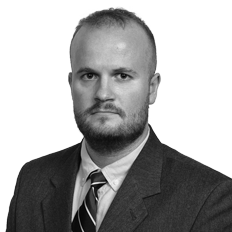 Contact
Baltimore
795 Cromwell Park Drive Suite N
Glen Burnie, Maryland 21061
Email
Phone
Biography
Mr. Nelson received his Master of Engineering degree in Reliability Engineering from the University of Maryland and his Bachelor of Science degree in Aeronautical Engineering with Merit from the United States Naval Academy. His responsibilities include vehicle and heavy equipment accident investigation and reconstruction; analyses involving illumination, visibility, and conspicuity; machine, equipment, vehicle component, and mechanical failure analysis; and analyses involving marine vessel component failures and boating incidents.
Prior to joining S-E-A, Mr. Nelson spent over seven years as a marine engineer working for a naval architecture firm primarily supporting the U.S. Coast Guard's boat forces. His responsibilities there included mechanical and electrical marine engineering design and acquisition support, technical analyses, failure and accident investigation, warranty issue validation and resolution, operations and training program development, maintenance program and procedure development, and field installation and testing of craft equipment and systems. Areas of focus included auxiliary, electrical, electronics, hull, human factors, mechanical, piping and pumping, propulsion support and control, and propulsion systems, among others. Mr. Nelson also worked for two years as a project engineer supporting the design, installation, maintenance, and operation of a joint command center overseas, responsible for mechanical, electrical, and electronic systems.
Mr. Nelson is a licensed professional engineer (P.E.) in the District of Columbia, Maryland, New York, North Carolina, Pennsylvania, and Virginia. He is also a member of the American Boat and Yacht Council (ABYC), the International Association of Marine Investigators (IAMI), the Society of Naval Architects and Marine Engineers (SNAME), the Mid-Atlantic Mariner's Club, the National Society of Professional Engineers (NSPE), the National Association of Professional Accident Reconstruction Specialists (NAPARS), and the Society of Automotive Engineers (SAE International). He has SAE certification in accident reconstruction, is an ABYC Certified Master Marine Technician, previously held a NAVSEA Reliability Centered Maintenance (RCM) Level II Certification, and is an IAMI Certified Marine Investigator (CMI). Mr. Nelson has provided expert testimony in courts of law.
Request CV
"*" indicates required fields