Ronny Wahba
Associate Director, Technical Services - Transportation
P.E.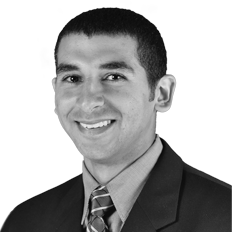 Contact
Baltimore
795 Cromwell Park Drive Suite N
Glen Burnie, Maryland 21061
Email
Phone
Biography
Mr. Wahba received his Bachelor of Science and his Master of Engineering in Mechanical Engineering from the University of Maryland.  He specializes in vehicle accident reconstruction, vehicle dynamics, research and testing, vehicle simulation software, and vehicle system failures.  He has completed the Society of Automotive Engineers (SAE) Accident Reconstruction Certificate Program and is experienced in the reconstruction of accidents including motorcycles, passenger vehicles, tractor-trailers, commercial vehicles and heavy equipment, bicycles and pedestrians.  Mr. Wahba has expertise in the field of electronic data retrieval including Bosch's Crash Data Retrieval (CDR) system for passenger vehicles, Heavy Vehicle Electronic Data Retrieval (HVEDR) for most engine manufacturers of over-the-road tractors, and GPS data retrieval and analysis.  Mr. Wahba is Faro certified in 3D laser scanning.  He is also a FAA Part 107 licensed sUAV (Drone) pilot.  Mr. Wahba is experienced in video analysis and photogrammetry (Planar and 3D Camera matching).  He has extensive experience and training using Engineering Dynamics Corporation (EDC) Human, Vehicle, Environment (HVE) accident reconstruction simulation software as well as PC-Crash simulation software.  Mr. Wahba is published in various automotive societies and accident reconstruction journals with several publications involving motorcycle dynamics, commercial vehicles, and accident reconstruction simulation software.  Mr. Wahba performs testing of Advanced Driver-Assistance Systems (ADAS) including testing evaluating pedestrian detection system performance in various scenarios.  Mr. Wahba also performs peer reviews for Society of Automotive Engineers (SAE) including publications evaluating ADAS systems in commercial vehicles.  Mr. Wahba is a member of the Society of Automotive Engineers (SAE), National Association of Professional Accident Reconstruction Specialists (NAPARS), the American Motorcyclist Association (AMA), the American Society of Mechanical Engineers (ASME), and the American Society for Testing and Materials (ASTM), Mr. Wahba is also licensed as a professional engineer in Maryland, Pennsylvania, and New York.
Request CV
"*" indicates required fields