Krysta Rasmussen
Electrical Consultant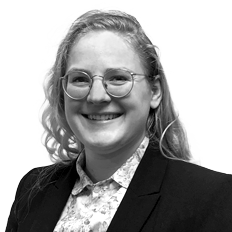 Contact
Baltimore
795 Cromwell Park Drive Suite N
Glen Burnie, Maryland 21061
Email
Phone
Biography
Ms. Rasmussen obtained her Bachelor of Science degree in Electrical Engineering from the University of Utah.  Her responsibilities at S-E-A include providing evaluations regarding the cause of electrical faults and malfunctions that result in loss, including fire, shock or electrocution, and damage to equipment or systems.
Prior to joining S-E-A, Ms. Rasmussen was an Engineer with a Washington DC-based electric utility company.  She gained experience in electric distribution system studies, analysis, and design.  Her responsibilities included the integration of non-wires alternatives, such as solar generation and batteries into planning processes.
Ms. Rasmussen's professional affiliations include the Institute of Electrical and Electronics Engineers (IEEE), the International Association of Arson Investigators (IAAI), the National Association of Fire Investigators (NAFI), the National Fire Protection Association (NFPA), and the National Council of Examiners for Engineering and Surveying (NCEES).
Request CV
"*" indicates required fields